Meet the Team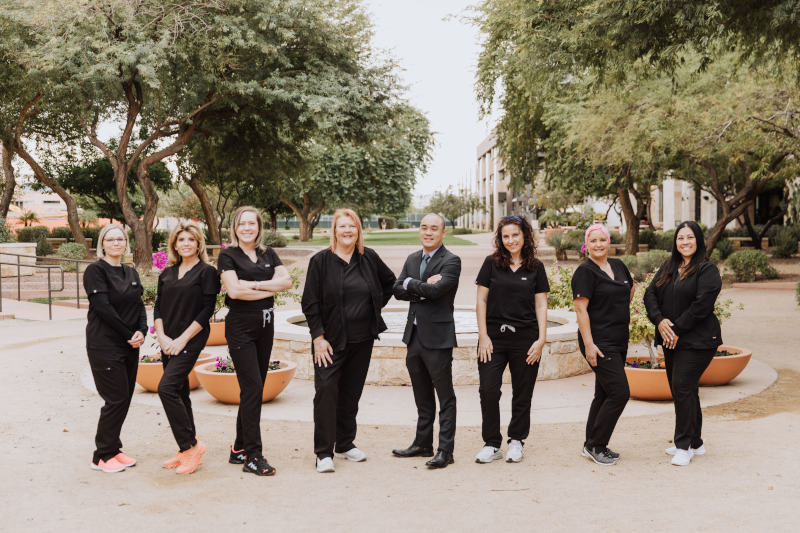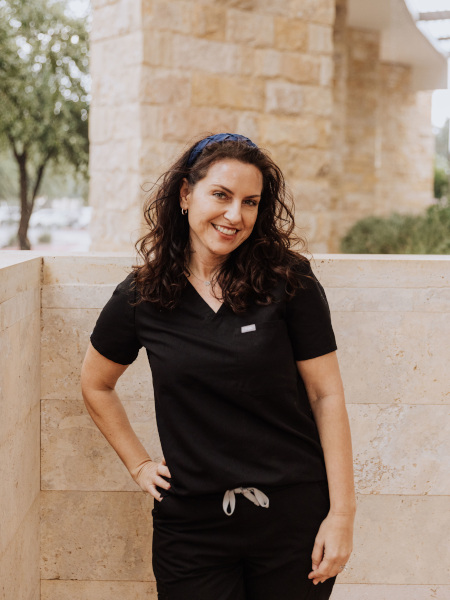 DeeDee
Office Manager

DeeDee is our office manager and has been a valued part of the team since 2010. With over 22 years of experience with oral surgery, both clinical and administrative, she brings a great deal of knowledge to our team. She is certified in CPR, ACLS, PALS, and has a background of surgical assisting in various medical procedures. DeeDee lives with her husband, Bryan, and together they have five children. In her free time she loves to play tennis and pickleball with her husband and enjoys spending lots of time with her kids and their activities. Her favorite thing about Surprise Oral and Implant Surgery is the overall way we interact with patients. "We strive to make sure each patient that walks through the door feels the compassion and care that only our office can provide."
---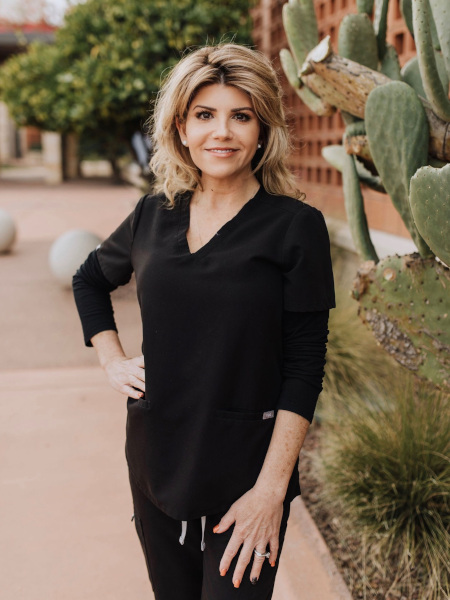 Jodi
Lead Surgical Assistant

Jodi is our back office lead and has been leading our back office team for 7 years. She is a resident of Surprise has and been active in our community for more than 19 years. Jodi is a proud mother of two boys and her beautiful granddaughter who arrived in April of 2020. With over 25 years of experience in dentistry, 14 years of oral surgery, and her additional certifications, Jodi is a very valuable player to our team. She has earned her RDA and is BLS, IV, DAANCE, ACLS, and PALS certified, but she still chooses to continue her education whenever she can. Her husband works for the Phoenix Police Department and when she's out of the office, they are hiking and wine tasting in our beautiful state. Her favorite thing about Surprise Oral and Implant Surgery is the people, "we are all serving the same purpose: to provide the highest level of patient care."
---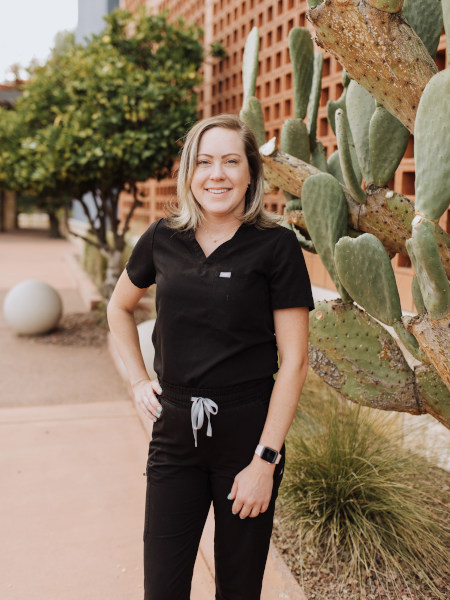 Laura
Surgical Assistant

Laura is a South Carolina Native and has worked in the field of dentistry for over 15 years. She is a surgical assistant here at Surprise Oral and Implant Surgery and works closely with Jodi and Dr. Nguyen. When she's out of the office, Laura is hiking or biking around Arizona with her two boys and their Husky-Rottweiler mix. You can also find her visiting craft breweries and attending sporting events. Laura is certified in IV, PALS, ACLS, DAANCE, and as an expanded function dental assistant. Her favorite thing about Surprise Oral and Implant Surgery is the working environment. She truly enjoys coming to work every day.
---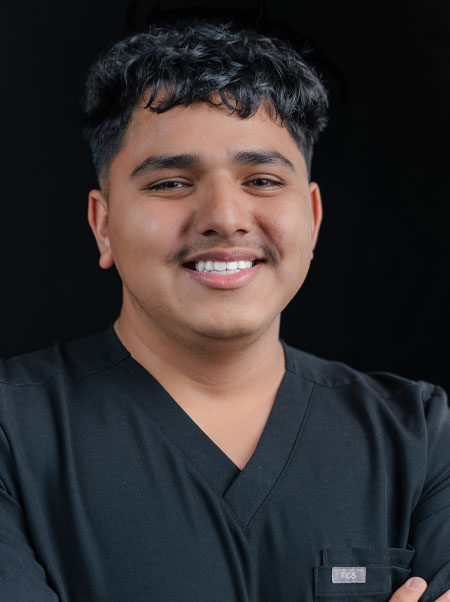 Temo
Surgical Assistant

Temo was born and raised in Phoenix, AZ. He is certified in ACLS, PALS, IV, and BLS. Outside of the office, Temo helps with his family's business. He also enjoys working on his car and going on hikes! His favorite thing about Surprise Oral and Implant Surgery is his coworkers!
---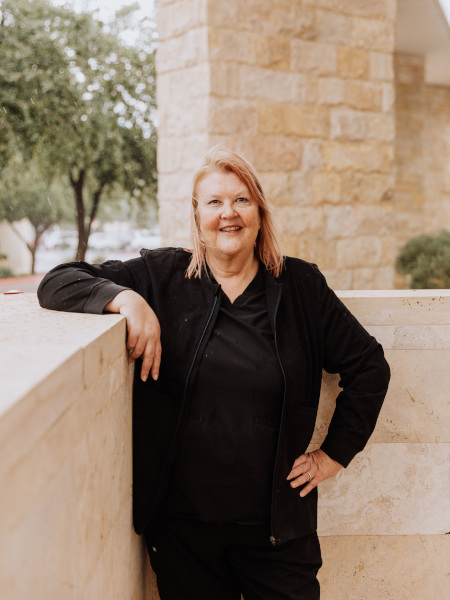 Karen
Front Desk Assistant

Karen is our front office Assistant who joined the SOIS office in Feb 2021. She brings her warm smile to greet you when you arrive for your appointment and is the sweet voice when you give us a call on the phone. You will find her scheduling your appointments and verifying your INS benefits.

She started her dental career over 30 years ago working as a certified dental assistant in general dentistry in a suburb of Chicago until the dentist retired. She made the move to an oral surgeon's office and found it very rewarding. She first started as an Assistant and then moved to the front desk.

Making the move in 2006 from NorthWest Indiana to Sunny Arizona, she found herself in an orthodontic office working the front desk, scheduling appointments, and verifying INS. She then went on to a general dentistry office and made it back to oral surgery.

When not in the office, Karen enjoys spending time with family, friends, and her spouse, Rob, who she met in 2010. They like to go off-roading in their jeep, sporting events like hockey and football, or just hanging out at home.

Her favorite thing about SOIS is the team atmosphere, she says it is definitely like a family!
---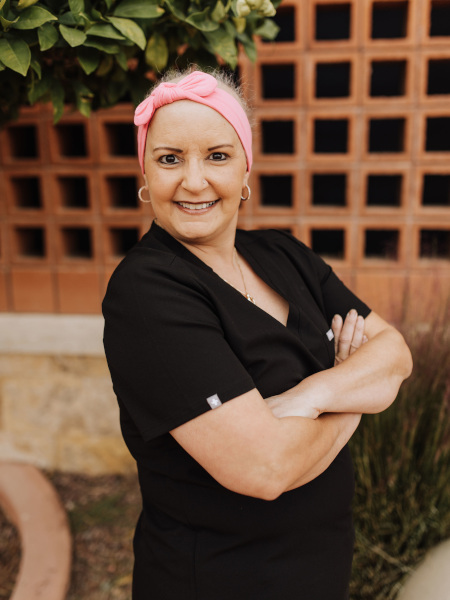 Mary
Implant Coordinator

Meet Mary our Implant Coordinator. Mary grew up in the East Coast and migrated to sunny Arizona in 2013. With over 20 years of Oral Surgery experience, she joined our team in March of 2022. If you are in need of a dental implant, Mary is your girl. Mary has extensive dental knowledge along with the ability to coordinate insurance benefits, which makes her exceptional at her position. Mary will always greet you with her unforgettable smile and her positive attitude. Mary will ensure that you feel confident about all the information you received at your appointment and will be available anytime you have a question. In Mary's spare time she enjoys being with her family and dancing with her husband. If you don't find her around the office you might find her at the beach!
---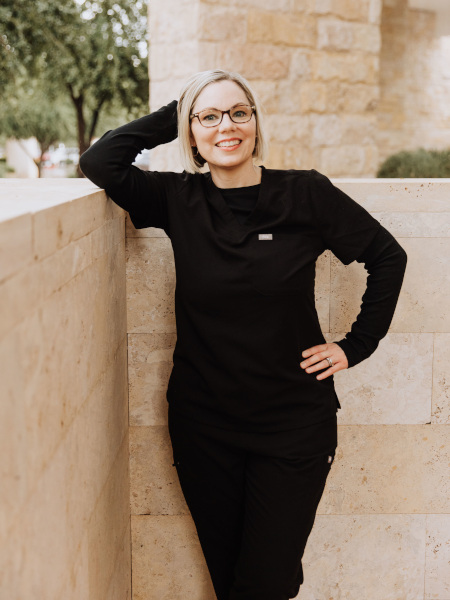 Natalie
Front Desk Assistant

Meet Natalie, our friendly Front Desk Assistant. Natalie moved to the Valley of the Sun from Colorado in 2018. Natalie is now a retired military wife, but during her husband's 20 years of service they have traveled the world before landing in Arizona. With over 8 years of Oral Surgery experience she is the right person to answer any of your Oral Surgery questions. Around the office, you can find Natalie checking in and out patients, coordinating appointments and helping to ensure the patients' experience. When she's not in the office, Natalie loves hanging out with her cats and spending time with her family while enjoying a delicious pizza.
---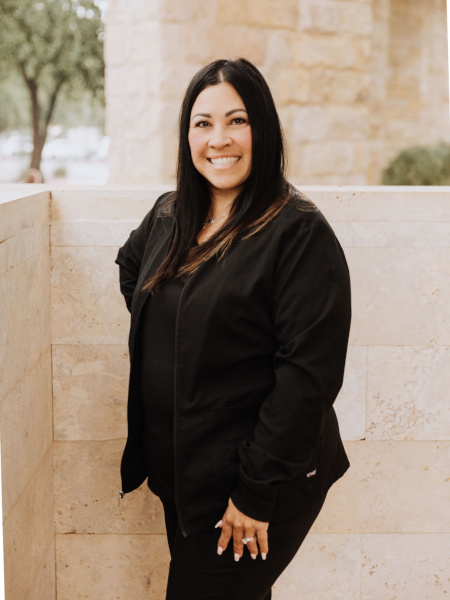 Rebecka
Marketing Coordinator

Rebecka is our Marketing Coordinator. She has recently rejoined the workforce after taking a break to expand her beautiful family. Although a California native, Rebecka transplanted to Arizona in 2004 and began working in the dental field. With over 20 years of experience, she joins Surprise Oral and Implant Surgery in 2022. In her free time Rebecka enjoys cruising, vacations and trying new foods. She also loves spending time with husband and kiddos, visiting with friends and family, and exploring Arizona in her Jeep. Her favorite thing about Surprise Oral and Implant Surgery is the people she gets to work with every day!
---