Zygomatic Dental Implants

Surprise, AZ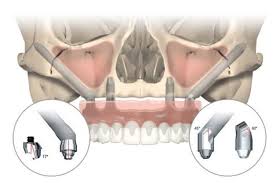 Restorative dentistry has come a long way in the last 30 years. In the past, when adults began to have problems with their jawbones, there was nothing we could do. Many adults suffer injuries to their faces because of trauma from a car accident or a blow to the face. There are also adults who suffer from cancer and other illnesses, who need to have their smiles restored. One of the most revolutionary procedures to come to restorative dentistry in the last 30 years has been implants. However, not everyone is a candidate for implants.

If you have heard that you are not a candidate for implants because of your injuries, or because you don't have enough bone in the upper jaw to hold implants, there is another procedure available to you called zygomatic dental implants. Zygomatic dental implants are just one more way that we can restore that smile that you are missing. Let Surprise Oral & Implant Surgery tell you about zygomatic implants and why they are so amazing.


About Zygomatic Implants

We use zygomatic implants when we have patients who are not candidates for traditional implants. Don't get us wrong, traditional implants are amazing. Traditional implants consist of a metal screw and a porcelain crown. We screw the screw directly into the jawbone, where it functions like a tooth root. In order to qualify for traditional implants, you have to have sufficient bone mass in your jaw to support an implant.

Zygomatic implants are different. While they are still implants, the screws we use with zygomatic implants anchor into the zygoma bone, which is directly above the upper jawbone. Since the zygomatic implants anchor into a different bone, they can work for people who do not have enough bone mass in their upper jaw. For many people who have deteriorated jaws, zygomatic implants mean that they may still be able to get implants and restore their smile.


The Zygomatic Implant Procedure

The first step of the zygomatic implant procedure is to get x-rays to make sure that we are able to perform the procedure. The zygomatic implant procedures follow the same procedure as a traditional implant. We will make an incision into the gumline- after numbing your mouth, of course- and we use a very long screw that attaches to your upper jawbone with an anchor (if needed) in the zygoma bone. After the screws have healed, we can then place the porcelain crown on top of the screw. Usually, we can place several teeth at one time with the zygomatic implant procedure in the same way we place teeth with a traditional implant.

If you have lost teeth and bone mass due to an accident, an injury, tooth decay or gum disease, Surprise Oral & Implant Surgery can help. You may be a candidate for a zygomatic implant procedure. Give us a call today at (623) 263-5042 and let us schedule you for a consultation. We love giving our patients the ability to smile and laugh again without worrying about what your teeth look like. Call us today.