Sedation Dentistry Surprise AZ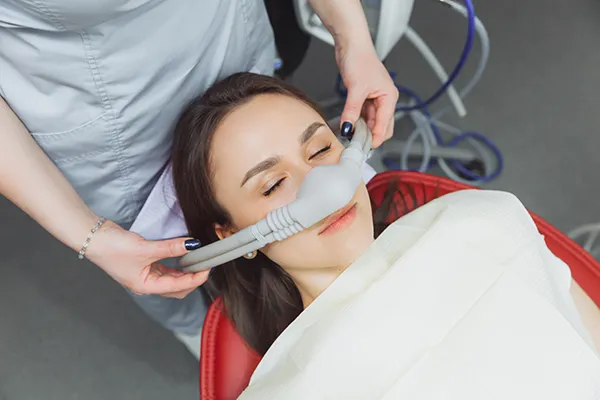 Sedation dentistry is used for more complex procedures, young children, or people with severe anxiety that need help relaxing during dental procedures.


Types of Sedation

At Surprise Oral & Implant Surgery, we have various sedation options available, including oral sedatives, nitrous oxide gas, and intravenous (IV) sedation.


Nitrous Oxide

Nitrous oxide is also known as "laughing gas". This is another form of mild sedation that wears off as soon as the administration is stopped. We administer nitrous oxide through a mask, allowing you to continuously breathe it in through your nose during the procedure. Our oral surgeon can then adjust the given amount as needed during your procedure. Nitrous oxide, given that the effects wear off instantly, will not cause drowsiness afterward. It is the only sedation option that lets you drive home by yourself afterward.


Oral Sedation

Oral sedation can be either mild or moderate, depending on the complexity of the procedure and the patient's needs. This type of sedative is given in a pill form, though liquid medicine is available for patients who have difficulty swallowing pills. Oral sedation will cause slight drowsiness, but you are able to remain awake during the procedure. Though this type of sedation does not force you asleep, it is still possible to fall asleep during this treatment. The effects typically wear off within half an hour of administration, so it is used for very short procedures only.


IV Sedation

IV sedation is one of the least common forms of sedation, but it is absolutely an option should you ever need it. Our oral surgeon can adjust the given amount throughout the procedure as needed, just like with nitrous oxide. The IV needle is typically inserted into one of the veins on your hand, but there are other options as well. IV sedation is fast-acting and much stronger than the previous two forms. You should expect fatigue and grogginess for the rest of your day.


Benefits of Sedation

One of the main advantages of sedation dentistry is its ability to alleviate anxiety and fear associated with dental visits. Many people experience dental anxiety, which can prevent them from seeking necessary dental care. Sedation helps create a calm and relaxed state, making the dental experience more comfortable for anxious patients.

Sedation helps patients feel more at ease during dental procedures, minimizing discomfort and pain. This is especially beneficial for individuals with a low pain threshold or sensitivity to dental sensations. Sedation can enhance pain management during and after dental procedures. Patients may experience reduced sensitivity to pain, and the recovery process may be more comfortable.

Sedation dentistry is suitable for a wide range of dental procedures, from routine cleanings to more complex treatments such as oral surgeries or extensive restorative work. It offers flexibility in catering to the diverse needs of patients. For individuals who need extensive dental work or multiple procedures, such as dental implants, sedation allows dentists to accomplish more in a single visit. This can be particularly advantageous for those with busy schedules who prefer to minimize the number of dental appointments.


Sedation Dentistry in Surprise AZ

For more information about sedation options, contact Surprise Oral & Implant Surgery at (623) 263-5042.

Our office is proud to also offer Sedation and Anesthesia for Kids!