Odontogenic Infections Surprise AZ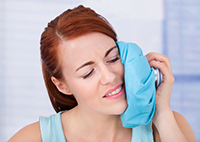 Odontogenic infections are a type of oral infection that primarily consists of dental caries or cavities and periodontal disease such as gingivitis. If left untreated, odontogenic infections can have severe implications. Accurate diagnosis and prompt treatment are critical for treating and preventing adverse consequences. At Surprise Oral & Implant Surgery, we utilize modern dental technology and treatments to eliminate the infection and restore your oral health.


Odontogenic Infections: What Are They?

The word odontogenic is derived from Ancient Greek. Odonto means tooth, while genes or genos means birth. Collectively, odontogenic infections refer to the types of infections that originate in the teeth or in the tissues that closely surround it. These infections are some of the most common types of oral infections affecting the oral and maxillofacial regions. They may originate in one region and may remain localized to that specific region or it may spread to adjacent tissues.


Causes of Odontogenic Infections

Dental caries are one of the most common causes of odontogenic infections. Often left undiagnosed, dental caries can develop a severe form of infection within the tooth. Besides that, periodontal disease, failed root canals and/or fillings, and pericoronitis are some of the other common causes of odontogenic infections. Invariably, these infections are caused by bacteria or a mixture culture of endogenous microflora that inhabit our oral cavities. Over time, the bacteria infect the tooth or surrounding tissues.


Complications

If left untreated and undiagnosed, odontogenic infections can take a severe form. The infection not only causes discomfort and pain, but it can also spread beyond the oral cavity. It can cause life-threatening consequences if it reaches deep fascial spaces in the head and neck region. In fact, they are associated with a mortality rate between 10 and 40%. As far as clinical features are concerned, inflammation, fever, repeated chills, sharp pain, headache, and difficulty in accessing the full functionality of the oral cavity are common. More severe forms of infection present more serious clinical symptoms. Dr. Alexander N. Nguyen understands the severity of the complications that could arise from a prolonged infection. Our priority is to obtain an accurate diagnosis and begin treatment as soon as possible to avoid preventable side effects.


Treating Odontogenic Infections

Medical, surgical, and dental therapies are a part of various treatment plans for odontogenic infections. The priority tenet is to remove the source of the infection to prevent further spreading. Endodontic removal of the pulp, scaling, or extraction might be necessary in some cases, while others could be managed with antibiotics such as penicillin. While a range of possible treatment solutions exists for eliminating Odontogenic infections, they require careful consideration of various factors. Besides the age of the patient, their physical health, other medical conditions, and the medication they take are may change the course of treatment. Here at Surprise Oral & Implant Surgery, Dr. Alexander N. Nguyen will assess and diagnose the state of the infection meticulously. Since the complications arising out of untreated infection are dire, his accuracy and thoroughness are key for successful treatment.

If you have been experiencing pain in your tooth or have unexplainable swelling or fever around the jaw and mouth, consult a dental professional immediately. Call at (623) 263-5042 to schedule an appointment today for an accurate diagnosis and early intervention.