Natal/Neonatal Teeth Rubbing Surprise AZ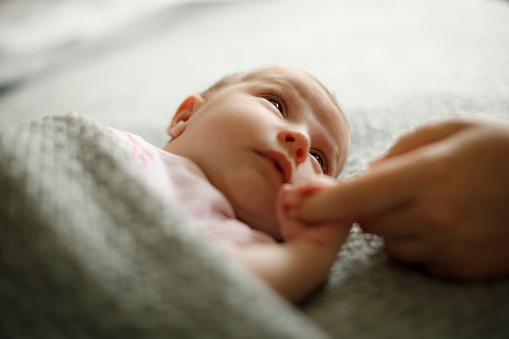 Dental health begins in-utero, proper maternal care and diet plays a role in the health and development of your child's teeth. In addition, there are genetic factors and anomalies that can impact your child's oral health. Our team at Surprise Oral & Implant Surgery can provide you the education and guidance you need to understand oral health, we can then provide the treatment needed to help you and your baby have lifelong oral health.

In general, babies cut their first tooth around 6 to 8 months of age. Occasionally, babies may be born with one or two teeth, these are known as natal teeth. Teeth that are cut earlier than four months of age are known as neonatal teeth, they are also premature teeth in their development. Premature teeth can sometimes be referred to as congenital teeth, foetal teeth, or precocious dentition. Usually, these premature teeth are not well-formed. They are often small, misshapen or discolored because they are underdeveloped.

Natal and neonatal teeth are generally categorized in the following forms:

| | |
| --- | --- |
| • | Undersized: You may see a small hint of a tooth or teeth peeking just above the gum line. Or, a small, underdeveloped tooth comes above the gum line. |
| • | Loose: A tooth may come out of the gum line but not have any root structure to hold it in place and be loose. |
| • | Developed: You may see a fully developed tooth with crowns attached to a root structure, appearing as a fully mature tooth. |


Though any tooth can come in prematurely, the most common teeth observed are the upper or lower front incisors.

Premature teeth can result in issues for the baby, including:

| | |
| --- | --- |
| • | Soft Tissue Damage: Your baby may bite, or scratch the soft tissue inside their mouth causing irritation, bleeding or infection. |
| • | Breastfeeding Issues: Any breastfeeding mother can share a story of the discomfort of being bitten while breastfeeding. Natal and neonatal teeth can be extra sharp due to their small size. |
| • | Choking Hazard: Because these teeth often do not have the root system to keep them in place, natal and neonatal teeth can easily be swallowed, and choked on. |
| • | Riga-Fede Syndrome: Expanding on the soft tissue damage discussed above, this condition is characterized as the development of ulcers beneath the tongue due to natal and neonatal teeth rubbing the tissue. |
What can I do about Natal or Neonatal Teeth?

If you decide to not pursue treatment for your baby's natal or neonatal teeth, we will advise you to watch the teeth and tissue around the teeth with diligence. You will want to watch for symptoms of soft tissue infection and irritation. The development of an ulcer can be painful, causing your baby considerable discomfort.

The treatment for natal and neonatal teeth is the extraction or removal of these underdeveloped teeth. We recommend scheduling an appointment to review and discuss your baby's premature teeth specific to your baby. Each baby is different, as is their teeth, and we are happy to review and discuss your child's specific needs.

For more information on natal or neonatal teeth, contact our team at: (623) 263-5042