Snap in Dentures Surprise AZ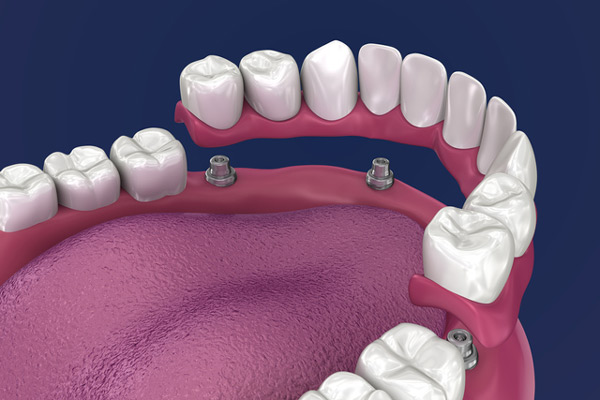 If you are missing the majority of your teeth or are struggling with discomfort from a severely damaged set of teeth, a complete dental restoration may be right for you. Complete dental restoration is one of several procedures that is intended to give you an entirely new smile. If you want a new and improved smile, but do not want traditional dentures, then snap in dentures, also called overdentures, may be right for you. Our team at Surprise Oral & Implant Surgery can provide you with a set of overdentures that look and function like real teeth.


What Are Overdentures?

Overdentures are a type of dental prosthesis designed to replace missing teeth while being supported by dental implants or existing natural teeth. Overdentures combine the stability and support of dental implants or natural teeth with the aesthetics and functionality of removable dentures. They are a versatile option that can be used in both partial and full arch restorations.


What is the Process for Getting Snap in Dentures?

During your initial appointment with our team, we will conduct an oral exam and determine your eligibility for overdentures. This will involve taking precise measurements of your mouth and conducting imaging services, such as x-rays. These measurements will then be utilized to create your overdentures.

When your overdentures are ready, you will return to our office for the surgical procedure. Our team will then install titanium posts to your upper and lower jawbones to attach the dentures. We will then attach them and ensure that they are adjusted for maximum comfort and function.


What Are the Benefits of Overdentures?

Overdentures have several benefits when compared to traditional dentures and dental implants. Overdentures are a preferred option to traditional dentures due to their added stability and improved function. They also look more natural than traditional dentures.

Overdentures require far fewer metal posts than full dental implants, putting less strain on your jawbone and allowing your bone to more easily fuse with the implants. Unlike dental implants, they can be easily removed for cleaning, making it easier for you to practice good oral hygiene practices. Overdentures are also less costly than dental implants and can be completed in a single surgical procedure. Dental implants require two and sometimes three separate surgical procedures to complete the process.


How Long Do Overdentures Last?

Overdentures can last approximately ten to 20 years. The longevity of your dentures will depend on good oral hygiene practices and regular professional cleanings. Avoiding potentially damaging foods, such as foods that are extremely hard or crunchy, is important to avoid damaging your dentures.

During regular dental exams, our team will inspect your dentures and provide feedback to you on the quality of your at-home care procedures. They will also inspect the portion of the dentures that attach to the implants and ensure that they are in good working order. This portion of the dentures can wear and become loose, which is a normal occurrence of snap on dentures. This attachment may need to be replaced every 12 to 18 months to ensure that your overdentures securely attach to your implants.


Snap in Dentures surprise az

If you are ready to begin your journey to a new, complete smile, our professionals at Surprise Oral & Implant Surgery can help. Contact us today by calling us at and learn if overdentures are right for you.