Here at Surprise Oral & Implant Surgery, the best experts can answer any question you might have about

bone grafting

and dental implants.

The two of them are directly linked. Implants will not just replace missing teeth, but they will restore beauty, confidence, and functionality in mastication and speech.


What Is A Dental Bone Graft?

One of the essential dental procedures when it comes to inserting dental implants in patients suffering from bone loss is the bone graft. In the absence of this intervention, the dental implant has a low guarantee because the bone tissue is not strong enough to support it.


Bone Graft for Dental Implants

If you lost a few teeth and are thinking of replacing them with implants, the bone graft is a procedure that you will need to make sure that dental implants can be placed successfully.


Why Do I Need A Bone Graft?

The main reason for bone grafting is the loss of mandibular bone mass. Various causes can lead to tissue weakness and its inability to support the dental implant.

One of the main ones is untreated periodontal disease. However, it can also result from congenital anomalies, loss of natural teeth, not replacing them in time, or excessive pressure caused by the upper teeth or the lower teeth during mastication.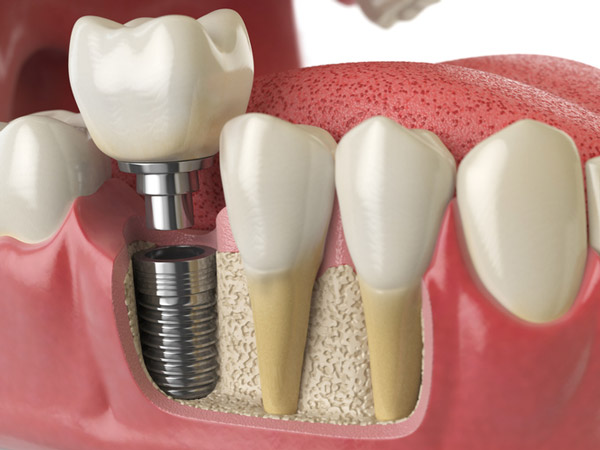 How Is A Bone Graft Done?
The surgery for the application of bone graft is done at the base - in the gums. Most of the time, it is a procedure that can be done at the same time as the dental implant, to reduce the discomfort of the patient.

This happens only when there is enough existing volume of natural bone. Then, the graft is covered with a special membrane that holds it inside the jaw. At the end of the procedure, the gummed section is repositioned and sutured.
Bone Grafting Procedure

The intervention is done under anesthesia, so you don't need to worry about comfort. Also, you will probably be prescribed antibiotics to prevent infection. It is very important to take all the antibiotics correctly and allow the surgery area to heal.

A small amount of pain or swelling after the intervention is normal, and for this, you will be prescribed analgesics. The healing time varies from person to person.

It might take longer if a dental implant is also inserted. Certain foods, smoking, and alcohol should be avoided after the surgery. From time to time, the bone graft should be checked to see if it heals properly. Some X-rays might be necessary for this.


Types of Bone Grafts

There are more types of bone graft, and you will choose the best option for you together with our team of experts.

It can be done using bone tissue harvested from various areas of the body; it is considered the most efficient, with an increased success rate.

It can also be done using bone harvested from another person, using bone tissue from animals or artificial bone tissue, made of synthetic materials.


Bone Graft Surgery Surprize AZ

There are more bone grafting techniques, as well. So contact our experts here at Surprise Oral & Implant Surgery at (623) 263-5042 and find out everything you need to know about bone grafting!