Should You Get All-On-4 Dentures?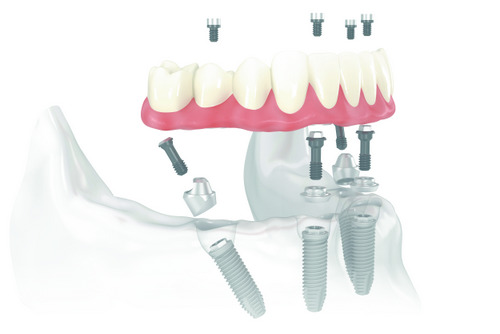 More and more people all over America are losing their teeth. For us in the dental world, this is the pandemic of our time. With reasons varying from age, to periodontitis and weak gums, loose teeth are a problem that we all have to take with utmost seriousness.

There are various ways to deal with this problem. Some of the more common ones include; medications and mouth rinses, surgery, soft tissue grafts and the new kid on the block is now All-on-4 dentures.


What Are All-On-4- Dentures?

Simply put, the concept of all-on-4 dentures implies that all the teeth in the upper and lower jaw are replaced or rather held in place by at least 4 dentures. This is done through a surgical procedure. This is a same day procedure that aims at the rehabilitation of teeth that have been damaged beyond repair for various reasons.
The front maxilla, where bone density is considerably higher, is screwed in with titanium or porcelain implants which then support a fixed prosthesis with more than 1 teeth, typically 14. The procedure is normally done in our office on the same day and the patient allowed to recuperate at home.


Benefits Of All-On-4 Dentures

All-on-4 dentures are a permanent replacement for all the teeth. They offer the conferred benefit of being lifelong with only the occasional (after several years) need for them to be maintained by a dental surgeon.

Additionally, when placed correctly, these dentures function and feel just as expected of natural teeth. A well done procedure will feel just as good as new.

After the initial healing period is over, the care expected of all-on-4 dentures is pretty much the normal care of natural teeth. You don't have to worry about out of this world cleaning procedures or rinses. In conclusion, these teeth are completely comfortable. Call us today for more information.